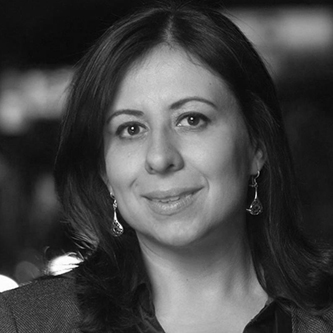 Eileen Truax
Co-founder, Cuadernos Doble Raya, Colectivo de Periodistas Iberoamericanos, Mexico and U.S.
Biography
Eileen Truax was born in Mexico City, where she was a political reporter and a Congress correspondent for five years. In 2004 she moved to Los Angeles.
She covered immigration, politics, and Mexico-U.S. relations for La Opinión, the largest Spanish-Language newspaper in the U.S. She has contributed to several other Spanish-language publications in Mexico and the US, such as Hoy Los Angeles and El Universal, Proceso, Gatopardo, Newsweek en Español, among others. She's co-founder of Malaespina Producciones, a documentary and short films video production company based in Los Angeles.
Truax is a member of the National Association of Hispanic Journalists (NAHJ) and co-founder of Cuadernos Doble Raya. Colectivo de Cronistas iberoamericanos, a journalist network with members in eight countries. In 2016 she was a recipient of the ICFJ's "Bringing Home the World" International Reporting Fellowship, to cover stories about immigrant youth in Spain.
She is the author of Dreamers, an Immigrant Generation's fight for their American Dream (Océano, 2013; Beacon Press, 2015) about the situation of undocumented students in the U.S. Her stories have been published in three anthologies: Los 12 mexicanos más pobres. El lado B de la lista de millonarios (Planeta, 2016), a project with an "anti-Forbes" list portraying people living in poverty in Mexico and the U.S.; 72 Migrantes (Almadía, 2011), stories about Central American immigrants murdered in northern Mexico; and Tú y yo coincidimos en la noche terrible (2012), a memoir on murdered Mexican journalists. She was an English-Spanish translator for the Latino Immigrant Civic Engagement report series for the Woodrow Wilson International Center for Scholars. Truax's second non-fiction book about the exile and asylum process from Mexico to the US is due for publication in January 2018 (Verso).
Her first novel, Fecha de Caducidad, co-authored with Beatriz Rivas and Armando Vega-Gil (Alfaguara, 2015) is a love story crossed by the disappearance of the 43 missing students of Ayotzinapa, Mexico.
Truax holds a B.A. in Social Communication and an M.A. in Communication and Politics (Summa Cum Laude) from the Universidad Autónoma Metropolitana, Mexico. She has twice received the José Martí Publishing Award from the National Association of Hispanic Publications (NAHP), and in 2010 she received the Media Woman of the Year Award from the California State Legislature.
All session by Eileen Truax