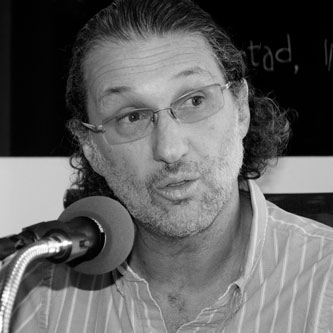 Martín Pallares
Journalist and co-founder, 4pelagatos.com, Ecuador
Biography
Martín Pallares has been a political journalist in Ecuador for over two decades. He is an outspoken critic of president Rafael Correa and his administration, and a frequent target of the president attacks on the media. Pallares co-founded the website 4Pelagatos with José Hernández and Roberto Aguilar, also outspoken in their denunciation of Correa's media persecution. The site has become one of the country's more influential sites for political commentary.
His career began at the newspaper HOY in Quito. He was a political editor with El Universo in Guayaquil, and correspondent for the Colombian newspaper El Tiempo. From 2003 to 2015, he was editor and columnist at El Comercio in Quito.
Pallares was a 2010 Knight fellow at Stanford University in California. His columns has been published by The New York Times and The New York Times en Español.
All session by Martín Pallares